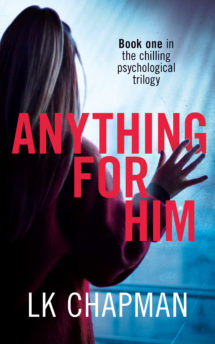 •Available: January 2016
•Formats: Paperback, Kindle, Audiobook
Buy now on Amazon.co.uk
Buy now on Amazon.com
Anything for Him
"A truly chilling thriller, with some seriously disturbing characters." Brittney Rossie for Readers' Favorite
Vulnerable and alone after the tragic loss of her parents Felicity finds herself in a relationship with volatile and troubled Jay.
Reluctantly drawn in to a twisted revenge plan against Jay's former best friend, Felicity soon becomes trapped, and as Jay turns increasingly controlling and abusive she questions everything he has told her about his past and his former girlfriend Sammie. But when she wants to expose the truth she comes up against an even greater threat: Someone obsessed and dangerous. Someone who has always been in the background of Jay's life. Someone who will do anything for him.
Q&A
Part of the story focuses on a teenage love triangle, is there anything that particularly interests you in writing about this age group?
I've always been keen to write a book where all or part of it focuses on the intensity and drama of teenage relationships. I think teenage years are so fascinating because there are such strong emotions involved, and decisions made during that time can have a lifelong impact. When I was studying psychology I remember learning once about the importance of taking into account age when making a diagnosis- an example being that any given teenager would probably meet the criteria of having a personality disorder, but for somebody of that age those behaviours are actually normal- as brains and identities are still developing.
What happens in Anything for Him is taking teenage relationships to the extreme, but I wanted to explore topics that I think are really interesting- from how friendships change when romantic relationships arise, to safe sex and discussing contraception, to more recent issues such as "sexting".
Are the characters based on anyone you know in real life?
Thankfully not! In fact, the characters changed a huge amount from the start of writing the book to where they are now, to the extent that some who started out nice became nasty and vice versa!
How did you go about tackling the issue of domestic violence that arises in the story?
I felt that the most important thing was to know my characters really well and follow my gut instinct on what they would do and how they would act. It was so important to me to handle the domestic violence aspects of the story sensitively, but I never wanted it to turn into a story specifically about domestic violence, I wanted it to be a story about four people who all have their own problems and difficulties, and the events that happen when their worlds collide.