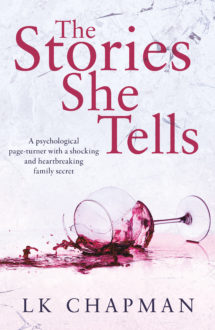 •Available: October 2017
•Formats: Paperback, Kindle, Audiobook
Buy now on Amazon.co.uk
Buy now on Amazon.com
The Stories She Tells
"If you want a book where the characters crawl under your skin and into your brain to consume your thoughts then this one is for you!" Chapterinmylife
When Michael decides to track down ex-girlfriend Rae who disappeared ten years ago while pregnant with his baby, he knows it could change his life forever. His search for her takes unexpected turns as he unearths multiple changes of identity and a childhood she tried to pretend never happened, but nothing could prepare him for what awaits when he finally finds her.
Appearing to be happily married with a brand new baby daughter, Rae is cagey about what happened to Michael's child and starts to say alarming things – that her husband is trying to force her to give up her new baby for adoption, that he's attempting to undermine the bond between her and her child, and deliberately making her doubt her own sanity.
As Michael is drawn in deeper to her disturbing claims he begins to doubt the truth of what she is saying. But is she really making it all up, or is there a shocking and heartbreaking secret at the root of the stories she tells?
You can get to know The Stories She Tells' main character Rae Carrington better by reading a day in her life in my guest post on My Eclectic Reads, or discover more about how I created Rae, whether I think I'd be friends with her and real life, how other characters in the book would describe her, and more, in my guest post on Portobello Book Blog.
Q&A
How long did it take you to write The Stories She Tells?
About sixteen months. I didn't really plan the book at all and it ended up changing a lot with each draft- I think I ended up rewriting pretty much the whole book about three times by the time it was where I wanted it to be!
Where did your ideas for The Stories She Tells come from?
Originally The Stories She Tells was a completely different story with a different title. One of the characters in it was Rae, and she was supposed to be a minor character, but I found her so interesting that I rewrote the entire book to make it all about her!
Did you find it difficult to write some the scenes in The Stories She Tells?
Some of the scenes were quite emotional to write, that's for sure! When I know I have a major scene to write it can feel daunting, but I make sure I start working on a scene like that on a day when I can just write and write without interruption and once I get into the swing of it I feel more confident and get completely lost in the story. If a scene is very complex with a lot of things needing to be covered I will often write out notes of what I need to include so that I don't end up forgetting things!
Is Rae's character based on someone you know in real life?
No. But I felt like I knew her as soon as I started writing her. I had a very clear idea of what she looked like and how she would act, and I just expanded on that and started thinking about why she might act that way and what may have happened in her past.