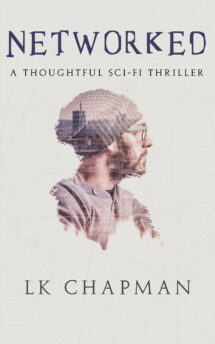 •Available: September 2014
•Formats: Paperback, Kindle
Buy now on Amazon.co.uk
Buy now on Amazon.com
Networked
They thought it was just a video game, but it's not. Someone is out there. Watching.
"Chapman has a brilliantly unique style of story-telling that plays and tests with your every emotion in each and every chapter." Jim Murdoch for Mojomums.co.uk
Video game designers Nick and Dan find their half-finished project suddenly replaced with a game that is finished – and brilliant. Soon players everywhere find themselves immersed in an incredible new virtual world. But events in the game become increasingly sinister, taking over the lives of players and blurring the lines with reality.
As Nick's life is thrown into turmoil, he fears for his friend Dan, and his wife Lily, who is drawn to the game as a way to escape her battle with depression. Soon Nick finds himself asking: Where has the game come from? Who made it? What is it for? And most importantly … What does it want from them?
Networked is a thoughtfully written sci-fi novel exploring the strengths and fragilities that make us human.
Q&A
What made you decide to write a novel based around a game?
I love anything that plays with the boundaries between what's real and what isn't. Games are great because when you play them you can be somebody else- for me that's a really fertile place for stories and ideas, and writing about a game meant I could take my novel in all sorts of different directions. I also spend a fair bit of time playing videogames- so it made sense!
Why did you decide to write about depression in a sci-fi novel?
I suffered from depression when I was a teenager. It started when I was sixteen and continued for around a year- though it's hard to say for sure when it started and when it finished. It was a very strange time. I didn't really know what was happening to me and it changed the way I thought about everything. I genuinely believed that other people didn't like or care about me- I remember going off on my own on a night out once and being genuinely surprised that my friends had noticed I had gone, let alone that they cared. I found being around people very difficult and the only person I confided in was my boyfriend (now husband). It was this bond I had with him which inspired the depression storyline in Networked.
I'm not sure specifically when I made the decision to include depression in Networked, though for me it made a lot of sense alongside some of the other themes in the novel, and so much of who Nick and Lily are in the present of the book ended up based on Lily's history of depression in the past. I'm not sure if it's what people normally expect in a sci-fi novel, but it felt right to me. Also, since depression was such an important part of my past, I think there was a part of me that wanted to express it in my first novel, making the whole thing a very personal journey for me.
Did you do much research before starting the book?
I did a lot of research into indie game development before I started writing Networked and found loads of useful information out there. Here are some of the things that inspired/informed me most:
How to be an Indie Game Developer
A Retrospective/Post-mortem on Dear Esther
To write about depression in Networked I drew on my own experiences to help create the fictional story in the novel. I also have a background in psychology and have volunteered for mental health charity Mind, and if you want to read more about the issues covered in Networked, their website would be a good place to start: