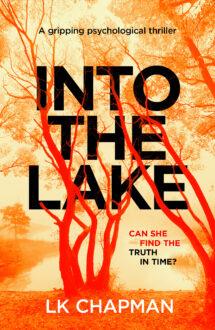 •Available: 25th June 2021
•Formats: Kindle, paperback, audiobook.
Included in Kindle Unlimited – subscribers read for free!
Buy Kindle edition on Amazon UK (£2.99)
Buy paperback on Amazon UK (£7.99)
Buy Kindle edition on Amazon US ($3.99)
Buy paperback on Amazon US ($9.99)
Into The Lake
Can she find the truth in time?
When Natalie reluctantly agrees to attend a school reunion, she hits it off with former classmate Josh – a boy she barely spoke to while they were at school together – and finds herself swept up in a whirlwind romance with him.
Then she receives the message: you can do better than marrying a murderer.
As Natalie pieces together the tragic story of the teenage girl who drowned at Chedford Lake, she realises she has the perfect opportunity to clear Josh's name. But it will mean putting herself in serious danger – and betraying someone she loves.
With Josh spiralling deeper into despair, and her own life torn apart by lies, can Natalie unravel what really happened before it is too late?