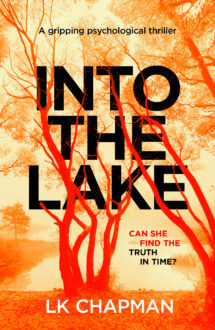 •Available: 25th June 2021
•Formats: Kindle, paperback, audiobook
Pre-order on Amazon UK
Pre-order on Amazon US
Into The Lake
Can she find the truth in time?
When Natalie reluctantly agrees to attend a school reunion, she hits it off with former classmate Josh – a boy she barely spoke to while they were at school together – and finds herself swept up in a whirlwind romance with him.
However, Josh's troubled past is never far away, and unsettling rumours soon surface about his involvement in the drowning of a girl at Chedford Lake. Convinced he is innocent, Natalie comes up with a dangerous plan to clear his name. But as Josh begins to spiral into despair over the rumours and she puts herself at ever greater risk, can she unravel what really happened before it is too late?